Our Vision
Be the UAE premier engineering, construction, and project management organization by achieving extraordinary results for our customers, building satisfying careers for our people, and earning a fair return on the value we deliver
As President of City Building Contracting, I firmly believe if we can achieve a place in the heart & mind of our customers as a provider of innovative solutions for integrated communities that suit every need and fulfil all dreams, the possibilities for the growth of our businesswill be unlimited no matter how challenging the construction environment be.
City Building Contracting is a business truly capable of benefiting and profiting both society and our shareholders.
I would like to take this opportunity to pledge that I and the City Team will endeavour to devote our maximum efforts to exceed our customers' expectations & fully satisfy their needs and requirements.
Establishing close relationships with our clients is a key element to reaching total solutions. We cultivate each relationship from the initial concept to completion, often maintaining the relationship years after project completion.
We believe successful consulting is achieved through a balance of extensive experience, a working knowledge of today's best practices, and access to cutting edge technology. We offer expertise that go beyond the standard practice to include innovative solutions using techniques cultivated in academic and research institutions. Accordingly, we take a proactive approach towards staff recruitment and development, and maintain close ties with universities and national laboratories.
In addition, we take pride in the exceptional quality of service we provide to our clients, realizing the value of promptresponsiveness towards their timelines.
We believe these are the keystones to our thriving business and long-lasting client relationships.
City Building Contracting values integrity; our practices are legal and ethical; our conduct is honest. Although we are motivated by a fair return on our investment, we are always striving for a win-win partnership with customers who share our desire to design and build memorial structures that add value to the community.
To this end, we are committed to effectively communicating to our customers the benefits of City Building Contracting's design/build process, and poured-in-place construction methodology. We will ensure that our customers receive real and measurable value from our 15-plus years of experience working with both private & government sectors from around the UAE especially in Umm Al Quwain.
Our employees are ourprime resource in achieving our mission. At City Building Contracting, we focus on recruiting, developing and retaining employees with the skills and competencies required to maintain a dynamic corporate culture driven by the values of quality, innovation and safety. We then provide our people with the most effective tools and technologies required to further ensure our customers are completely satisfied with every stage of their working partnership with City Building Contracting. We hope and believe that this path will lead to excellence, to innovation, to adventure, and to the kind of uncertain, bold leadership that will allow both our employees and our clients to realize their aspirations at least – and maybe a lot more.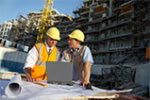 City Building Contracting LLC is a civil and construction building that has built a strong
Over the years, City Building has completed various projects & Accomplishments
City Building Contracting LLC is committed to building long-term relationships based on integrity
Affiliates & Partners