Mission
City Building Contracting LLC is committed to building long-term relationships based on integrity, performance, value, and client satisfaction. We will continue to meet the changing needs of our clients with our quality services delivered by the most qualified people.
Respect
Our commitment to "people first" is woven throughout our organization. Never forgetting that our business decisions impact people's lives, we infuse fairness and professionalism into all that we do.
Partnership
We believe the best work is done side by side, striving for shared goals. We treat business relationships as true partnerships.
Improvement
We are constantly planning, innovating and improving to deliver today's innovation for tomorrow's success. We invest and reinvest to ensure the health and longevity of our company and employees.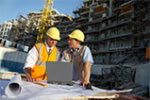 City Building Contracting LLC is a civil and construction building that has built a strong
Over the years, City Building has completed various projects & Accomplishments
City Building Contracting LLC is committed to building long-term relationships based on integrity
Affiliates & Partners